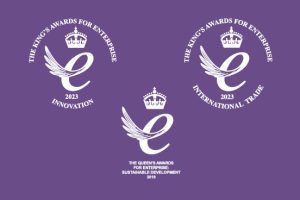 Established in 2009, we are one of the UK's most innovative spring markers and world leaders in responsible manufacturing.
The continued efforts to develop the latest in comfort technology and sustainability has been recognised over the years with a Queen's Award for Enterprise in Innovation in 2013 and 2018, Sustainable Development in 2013 and 2019 and International Trade in 2018. This year, the business was awarded a further two King's Awards for Enterprise in Innovation and International Trade, bringing the total number won to seven.
Innovation is deeply woven within Spinks' DNA thanks to our dedicated research and engineering teams who have achieved exceptional leaps since our last Innovation accolade, resulting in patented products and highly efficient processes. This year's King's Award for Innovation is no exception, where we were recognised for the design and manufacturing of revolutionary glue-less, fine-wire pocket springs.
Manufacturing components in-house has many benefits, one of which is that it allows Spinks to really understand the science behind the technology. In an industry that is relatively slow to seek new solutions in terms of products and processes, Spinks has continually invested to ensure it is revolutionising engineering through innovation.
Comfort is one of the core priorities when creating a mattress or piece of furniture and increasing the concentration of the springs is a key element in achieving high comfort levels for the end user. However, spring density is limited by the gauge of wire used. Our goal was to significantly reduce wire diameter without affecting comfort to create an ultra-fine-wire pocket spring with significant flexibility and strength. Working in collaboration with British Steel, a unique grade of steel was developed, alongside with an inhouse drawing process which has created a unique ultra-fine wire.
Our in-house design team built a first-of-its-kind coiler machine making the spring coiling process highly efficient with very little wastage – this led to improved outputs by 30%, a 60% efficiency gain and overall Co2 reduction of 30%.
Simon Spinks, Group Chairman of Harrison Spinks, said: "To be granted two King's Awards is a huge honour and are a reflection of the hard work the team has delivered, ensuring we are constantly championing innovation and high-quality, sustainable design."